Looking after our Community
Over lockdown our young people have become more familiar with what is around them in their localities. This Mayo Young person lives in the country side and was not too impressed with the litter that was accumulating on the road. The advocate bought litter pickers and they both practised their social distancing by working on separate sides of the road. They had great chats, laughs and felt like they were helping the community.
Learning to Fish!
Young person Molly Anna and her advocate Lisa decided to try something new and went fishing for the first time. They had two nets and cast them in the river and waited .. Unfortunately for Lisa she caught nothing but Molly Anna had beginners luck and caught not one but two fish! As they were not big enough to eat they put them back in the river and decided on a take away instead!!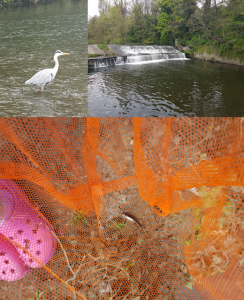 A Poem for Hope
YAP Ireland invited all young people to get in touch with their creative sides. We received lots of wonderful poetry but young person Katie and her advocate Lisa put together something really special that ended up published on our greetings cards and even impressed President Michael D Higgins!!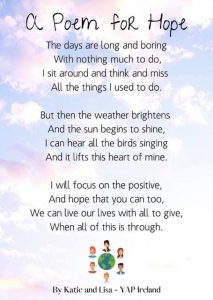 Grow your own veg!
Over the lockdown young person Aaron and his Advocate Kevin from Cavan developed this very impressive vegetable patch which is now in full bloom!
They have fruit shrubs
Onions
Tomatoes
Chives
Spinach
Lettuce
Cabbage
Beetroot
Carrots
Have already harvested radishes and some spinach.
With their produce they have made soup with some of the vegetable along with healthy wraps.

Young person's homeless Collection
Dominick in Co. Limerick, along with his advocate Seán , spent the lockdown slowly building a hamper of items to donate to Focus Ireland. The donations will be used by the Limerick City branch to support the homeless, as well as those who have recently moved into homes. A massive thank you to Kieran and the staff at Focus Ireland Sallybrook for the great work they do.